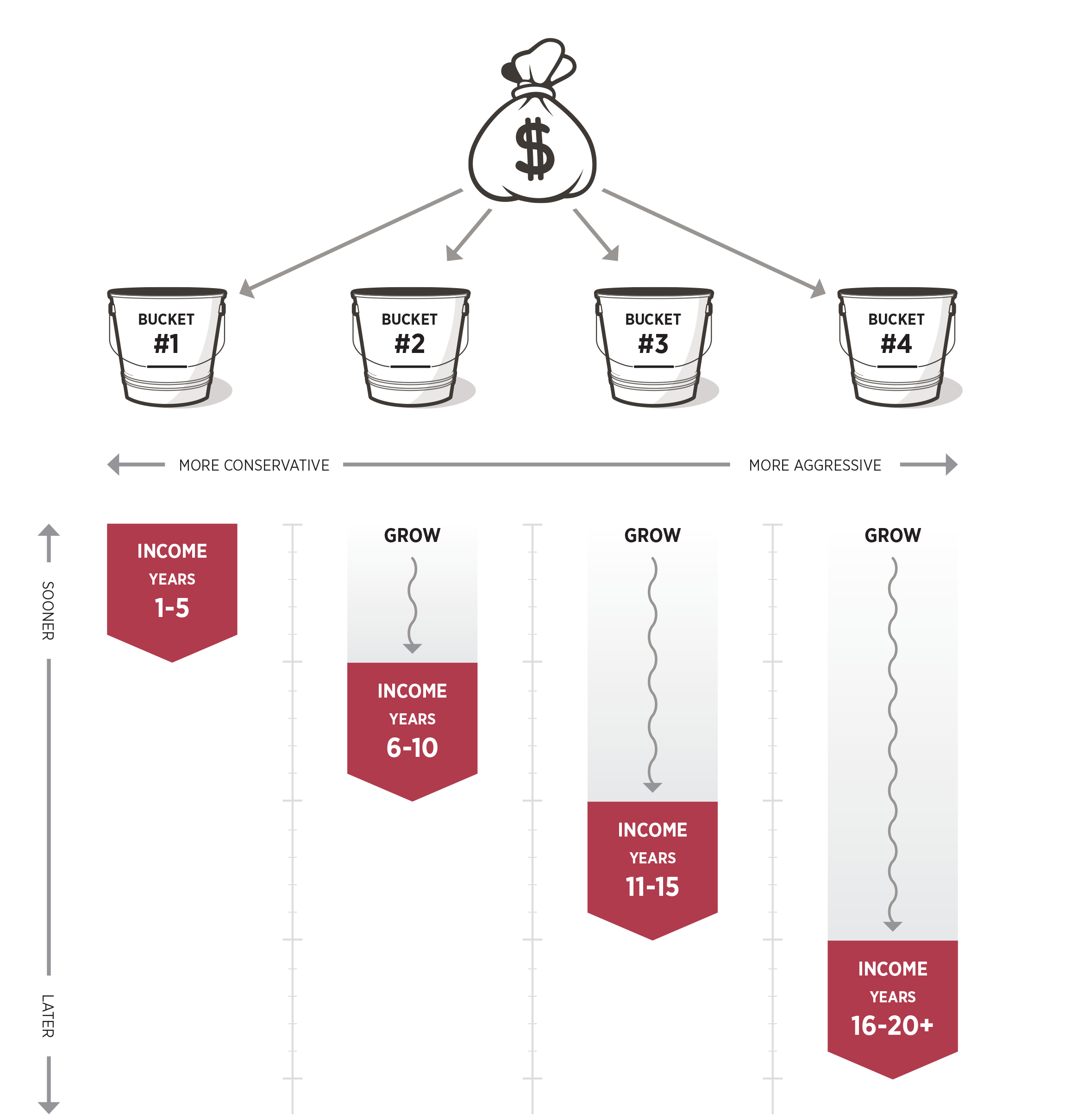 THEREIN LIES THE MAIN ISSUE FOR YOUR CLIENTS AS THEY CONTEMPLATE RETIREMENT
"How can I insure, as their advisor, that the money they need in the near term is safe and predictable, and not subject to the day-to-day market fluctuations, while I simultaneously put them in a position to receive the long-term market returns required to provide an increasing income stream throughout their entire life?"
Bucket #1

is built with very safe, secure investments that are designed to provide your client with a dependable and predictable income for the first five years of their retirement.

Bucket #2

will spend the first five years growing your client's money before it's needed for income, which allows you to choose investments that are designed to grow for five years and then provide income for the second five years of their retirement.

Bucket #3

gives your client a 10-year period for the investment to grow before they need the money for income. Therefore, you can select investments that allow them to maximize their returns over that time frame.

Bucket #4

works the same way as Bucket #3 but your client has 15 or more years to let it grow. This gives them the necessary time to withstand the ups and downs of more aggressive investments.
The Bucket Bliss™ Strategy is not a one-time hit. It's a fluid, adaptive strategy that has been repeated again and again. It's designed to give your clients the retirement income they've worked so hard for. You, the advisor, tailor it to their goals, objectives, and financial situation to help make their retirement dreams come true. No doubt, their plan will need adjusting over time as the market swings, inflation fluctuates, and their lifestyle changes. As your client's advisor, you can help ensure and give your client confidence that their Bucket Bliss™ plan stays on track.
These basic concepts help to maximize your client's retirement income and avoid the two most common problems they face in their retirement years: spending too much and running out of money before they run out of life, or spending too little and foregoing opportunities that would have provided them with a full and abundant life during their retirement.